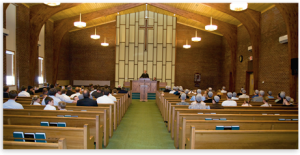 How sweet are thy words unto my taste!
Psalm 119:103
We invite you to attend our services. We practice many teachings of the New Testament in a literal way. You will witness these things in our services.
Congregational a capella singing
Sunday school for ages 4 and up
Kneeling posture for prayer
Practical preaching from the KJV of the Bible
Members greet each other with a Holy Kiss (For more info)
Women wear a head veiling (For more info)
Men and women sit separately (visitors may sit as couples)
Worship Service Schedule
Sunday Morning Sunday School – 9:15 a.m.
Sunday Morning Worship Service – 10:15 a.m.
Sunday Evening Service – 2nd Sunday of the month – 7:00 p.m.
Prayer Meeting Service – 2nd and 4th Wednesday evenings of the month – 7:30 p.m.